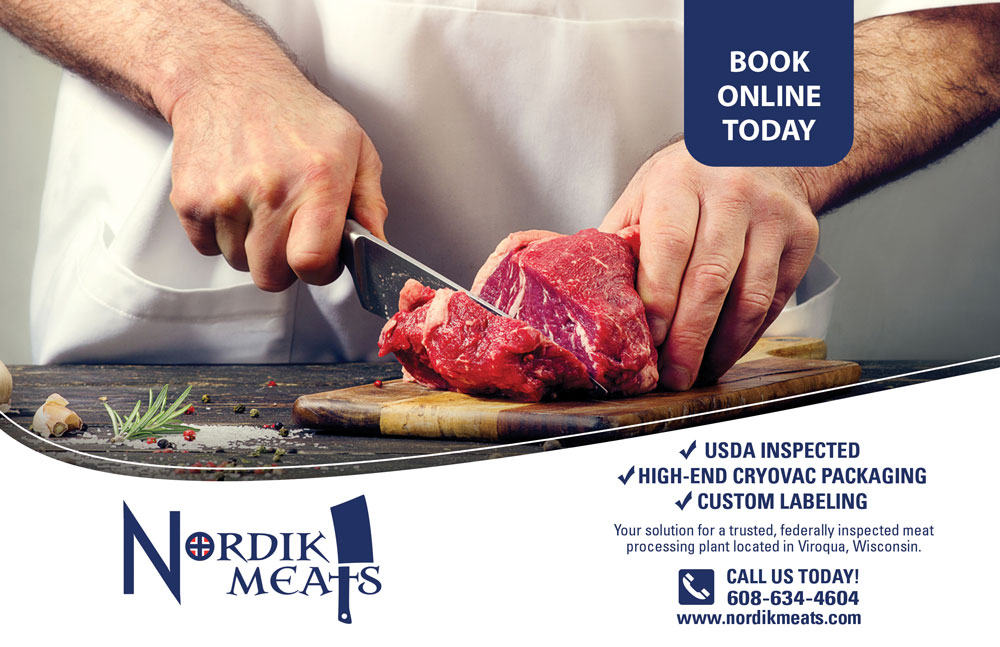 We are currently taking appointments! Book online or give us a call to schedule a meat processing appointment. If you are in need of a local source of meat, please contact us and we will connect you with a local, valued source.
Contact us today to get on our growing list of people
who want a local, trusted source for processing their meat.
---
We get great care and attention!
We are very excited to work with Nordik Meats, we get great care and attention with every order. Our customers are very happy with the no hassle packaging and we are happy with the quality presentation of our meats!
Louisa P.
Nordik Meats exceeded our expectations!
As a kid growing up on a farm and a farmer today, my family and I have had a lot of cattle processed and as a result a freezer full of delicious beef. Our first experience at Nordik Meats exceeded our expectations. We were curious to try all the buzz around a 21-day hanging period. What a difference in the tenderness and taste, best beef ever! We also appreciated the high-end wrapping and cutting including the extras like CryoVac, tie-wrapped, and shrink wrap cuts of beef. It made the cooking more efficient and clean up a breeze.
K & J L.
The facility is top notch!
Nordik meats is a great place to have animals processed to fit your needs. From my place as the producer to my customers the steps are super simple and easy to do online from anywhere. The facility is top notch clean and welcoming. I will continue to be a consistent customer.
Ken K.
A game changer for our direct to consumer business!
Nordik Meats attention to detail and first class Cryovac packaging was a game changer for our direct to consumer business.
RO, Willow Creek Ranch
The customer service was great!
The customer service was great! Everyone was so friendly and knowledgeable not only about meat processing and packaging, but also about farming. I am planning on using them in the future!
Ron D.
The meat was cut perfect!
I was very happy with the service at Nordik Meats. It was easy to unload my steers and pickup was very easy also. I like the vacuum packing process. And the way the meat is cut…is perfect. Other packing houses that I have worked with over the years, use freezer paper for wrapping which does not last as log in the freezer. The facility was clean and everything appeared to be new. I give their service a 10 out of 10!
Robert K.
We will be back again!
We are first time customers. We've never brought cattle in before to be processed. The staff was amazingly friendly. They walked us through the process and helped us figure out what cuts to keep and what could be ground. We are so impressed we will be back again! Thank you Nordik Meats!
Christie & Shaun M.
A gift to the community!
I was overjoyed to see Nordik Meats revive the abattoir on Hwy 14 and bring it back to life. And with all the improvements they have made it has never been a better organized or better run facility. It is a real gift to our community!
Vince H.
All around great experience!
We have enjoyed our experience with Nordik Meats. The quality of cuts and packaging are great. They offer many different cut options and make it easy to book a processing day!
Darren Y.
---